---
BIRTH: 5 Oct 1794, Ledyard, New London, Connecticut
DEATH: 30 Apr 1835, Ledyard, New London, Connecticut
BURIAL: Ledyard Union Cemetery, Ledyard, New London, Connecticut
Father: William Crouch (7 Nov 1770 - Oct 1840)
Mother: Content Watrous (15 Nov 1769 - 4 Oct 1853)

Family 1: Noah Whipple (6 Apr 1792 - 26 Oct 1871)

---

                                                                                         ______________________________
                                                                                        |                              
                                                                   _____________________|______________________________
                                                                  |                                                    
                                             _____________________|
                                            |                     |
                                            |                     |                      ______________________________
                                            |                     |                     |                              
                                            |                     |_____________________|______________________________
                                            |                                                                          
                       _William Crouch _____|
                      |  m 1765             |
                      |                     |                                            ______________________________
                      |                     |                                           |                              
                      |                     |                      _____________________|______________________________
                      |                     |                     |                                                    
                      |                     |_____________________|
                      |                                           |
                      |                                           |                      ______________________________
                      |                                           |                     |                              
                      |                                           |_____________________|______________________________
                      |                                                                                                
 _William Crouch _____|
| (1770 - 1840) m 1791|
|                     |                                                                  ______________________________
|                     |                                                                 |                              
|                     |                                            _____________________|______________________________
|                     |                                           |                                                    
|                     |                      _John Bolles ________|
|                     |                     |                     |
|                     |                     |                     |                      ______________________________
|                     |                     |                     |                     |                              
|                     |                     |                     |_____________________|______________________________
|                     |                     |                                                                          
|                     |_Christiana Bolles __|
|                        m 1765             |
|                                           |                                            ______________________________
|                                           |                                           |                              
|                                           |                      _____________________|______________________________
|                                           |                     |                                                    
|                                           |_____________________|
|                                                                 |
|                                                                 |                      ______________________________
|                                                                 |                     |                              
|                                                                 |_____________________|______________________________
|                                                                                                                      
|
|--Content Crouch 
|  (1794 - 1835)
|                                                                                        ______________________________
|                                                                                       |                              
|                                                                  _____________________|______________________________
|                                                                 |                                                    
|                                            _John Waterhouse ____|
|                                           | (1690 - ....) m 1719|
|                                           |                     |                      ______________________________
|                                           |                     |                     |                              
|                                           |                     |_____________________|______________________________
|                                           |                                                                          
|                      _Timothy Waterhouse _|
|                     | (1740 - 1814) m 1764|
|                     |                     |                                            ______________________________
|                     |                     |                                           |                              
|                     |                     |                      _John Culver ________|______________________________
|                     |                     |                     | (1670 - ....) m 1697                               
|                     |                     |_Esther Culver ______|
|                     |                       (1698 - ....) m 1719|
|                     |                                           |                      ______________________________
|                     |                                           |                     |                              
|                     |                                           |_Sarah Long _________|______________________________
|                     |                                             (1673 - ....) m 1697                               
|_Content Watrous ____|
  (1769 - 1853) m 1791|
                      |                                                                  _Samuel Whipple ______________+
                      |                                                                 | (.... - 1710) m 1666         
                      |                                            _Samuel Whipple _____|_Mary Harris _________________
                      |                                           | (1669 - 1728) m 1690  (1639 - 1722)                
                      |                      _Zachariah Whipple __|
                      |                     | (1706 - 1760) m 1728|
                      |                     |                     |                      _Zachariah or Zacharias Eddy _+
                      |                     |                     |                     | (1639 - 1718) m 1663         
                      |                     |                     |_Elizabeth Eddy _____|_Alice Paddock _______________
                      |                     |                       (1670 - 1717) m 1690  (1639 - 1692)                
                      |_Content Whipple ____|
                        (1743 - 1831) m 1764|
                                            |                                            _John Rogers _________________+
                                            |                                           |                              
                                            |                      _John Rogers ________|______________________________
                                            |                     |                                                    
                                            |_Elizabeth Rogers ___|
                                              (1706 - 1751) m 1728|
                                                                  |                      _ Smith ______________________
                                                                  |                     |                              
                                                                  |_Bathsheba Smith ____|_Bathsheba Rogers ____________
                                                                                                                       

---
Notes
!SOURCE: William Lee Whipple (email hidden) database, 4 Dec 1997.

!SOURCE: Email from R. Gilebarto to Weldon Whipple, 23 Feb 1998.

!BURIAL: At Quakertown Cemetery, Colonel Ledyard Hwy, Ledyard, CT. --R. Gilebarto
Gravestone of Content Crouch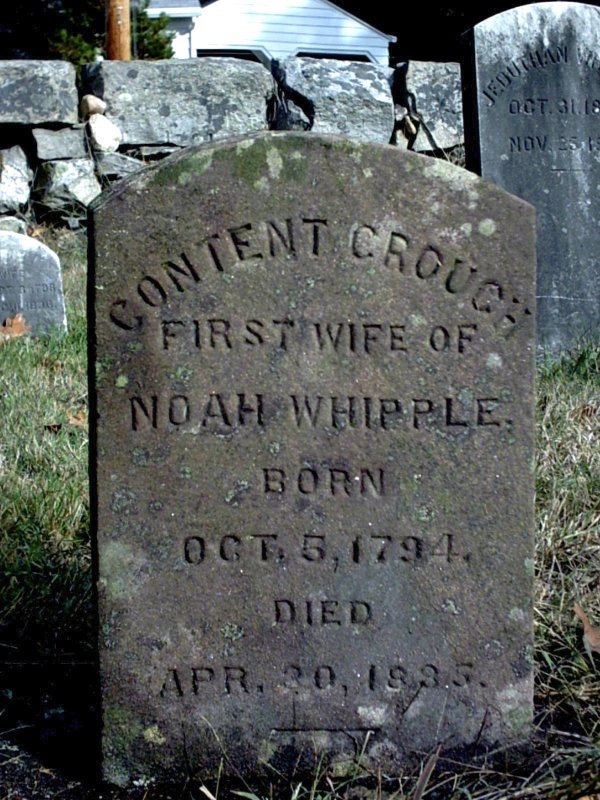 Gravestones of Noah and Content (Crouch) Whipple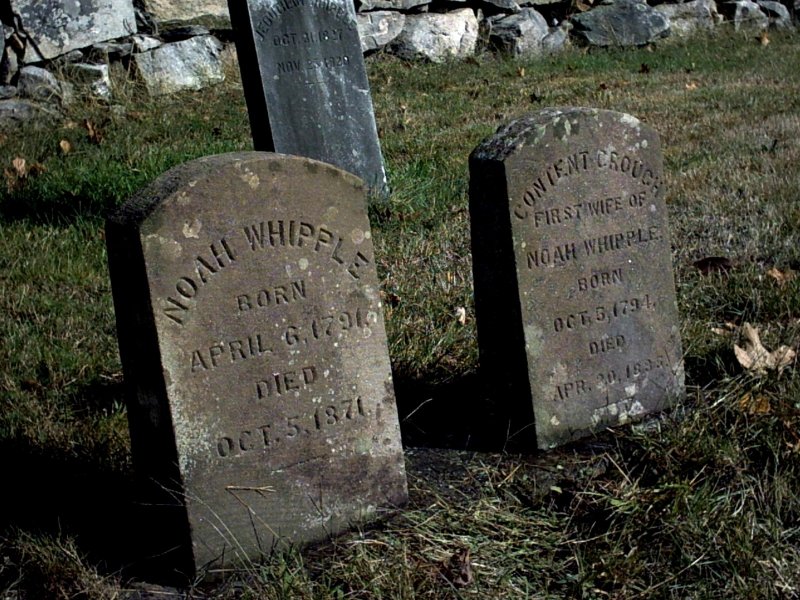 Ledyard Union Cemetery, Colonel Ledyard Highway, Ledyard, Connecticut
(Submitted by R. Gilebarto, 16 Oct 2007)

RIN 13525. Quick link to this page: https://genweb.whipple.org/13525
View this person at the Whipple One-Name Study

Email corrections and additions to whipple@one-name.org

© Whipple Website. All rights reserved.

---
HTML created by GED2HTML v3.6-Linux (Mar 8 2001) on Sat Jan 28 18:22:11 2023 GMT.