---
BIRTH: 14 Aug 1908, , , Connecticut
DEATH: 22 Jul 1996, Norwich, New London, Connecticut
BURIAL: Lambtown Cemetery, Lambtown Road, Ledyard, New London, Connecticut
Father: Timothy Levi Crouch (28 Jul 1879 - 9 Jul 1949)
Mother: Evelyn Delight Montgomery or Whipple (14 Nov 1884 - 6 Feb 1970)

Family 1: Ida Marciniak (24 Aug 1916 - 31 Aug 2008)

MARRIAGE: 9 Mar 1950, Ledyard, New London, Connecticut
---

                                                                                                                            _John Crouch _____________+
                                                                                                                           | (1777 - 1830) m 1797     
                                                                                                      _John Crouch ________|_Elizabeth Watrous _______
                                                                                                     | (1800 - 1868) m 1821  (1780 - 1862)            
                                                                                _Timothy Crouch _____|
                                                                               | (1826 - 1874) m 1846|
                                                                               |                     |                      _John Watrous ____________+
                                                                               |                     |                     | (1778 - 1820) m 1803     
                                                                               |                     |_Rachel Watrous _____|_Desire Rogers ___________
                                                                               |                       (1806 - 1826) m 1821  (1780 - 1821)            
                                         _Levi Williams Crouch ________________|
                                        | (1848 - 1920) m 1870                 |
                                        |                                      |                                            _Samuel Stillman Whipple _+
                                        |                                      |                                           | (1766 - 1843) m 1788     
                                        |                                      |                      _Noah Whipple _______|_Hepzibah Gates __________
                                        |                                      |                     | (1792 - 1871) m 1813  (1765 - 1822)            
                                        |                                      |_Betsey Whipple _____|
                                        |                                        (1826 - 1902) m 1846|
                                        |                                                            |                      _William Crouch __________+
                                        |                                                            |                     | (1770 - 1840) m 1791     
                                        |                                                            |_Content Crouch _____|_Content Watrous _________
                                        |                                                              (1794 - 1835) m 1813  (1769 - 1853)            
 _Timothy Levi Crouch __________________|
| (1879 - 1949) m 1905                  |
|                                       |                                                                                   _Timothy Watrous _________+
|                                       |                                                                                  | (1765 - 1820) m 1787     
|                                       |                                                             _Daniel Watrous _____|_Hannah Wilcox ___________
|                                       |                                                            | (1793 - 1879) m 1813  (1766 - 1851)            
|                                       |                                       _James Watrous ______|
|                                       |                                      | (1825 - 1903) m 1851|
|                                       |                                      |                     |                      _Samuel Stillman Whipple _+
|                                       |                                      |                     |                     | (1766 - 1843) m 1788     
|                                       |                                      |                     |_Hephzibah Whipple __|_Hepzibah Gates __________
|                                       |                                      |                       (1790 - 1849) m 1813  (1765 - 1822)            
|                                       |_Mary Watrous ________________________|
|                                         (1853 - 1927) m 1870                 |
|                                                                              |                                            _Timothy Watrous _________+
|                                                                              |                                           | (1765 - 1820) m 1787     
|                                                                              |                      _Silas Watrous ______|_Hannah Wilcox ___________
|                                                                              |                     | (1802 - 1852) m 1823  (1766 - 1851)            
|                                                                              |_Hannah Watrous _____|
|                                                                                (1832 - 1884) m 1851|
|                                                                                                    |                      _William Crouch __________+
|                                                                                                    |                     | (1770 - 1840) m 1791     
|                                                                                                    |_Mary Crouch ________|_Content Watrous _________
|                                                                                                      (1801 - 1884) m 1823  (1769 - 1853)            
|
|--James A. Crouch 
|  (1908 - 1996)
|                                                                                                                           _Samuel Stillman Whipple _+
|                                                                                                                          | (1766 - 1843) m 1788     
|                                                                                                     _Jonathan Whipple ___|_Hepzibah Gates __________
|                                                                                                    | (1794 - 1875) m 1815  (1765 - 1822)            
|                                                                               _Enoch Whipple ______|
|                                                                              | (1825 - 1897) m 1851|
|                                                                              |                     |                      _John Crouch _____________+
|                                                                              |                     |                     | (1777 - 1830) m 1797     
|                                                                              |                     |_Elizabeth Crouch ___|_Elizabeth Watrous _______
|                                                                              |                       (1798 - 1883) m 1815  (1780 - 1862)            
|                                        _George Alfred Montgomery or Whipple _|
|                                       | (1861 - 1932) m 1884                 |
|                                       |                                      |                                            _William Crouch __________+
|                                       |                                      |                                           | (1770 - 1840) m 1791     
|                                       |                                      |                      _Zachariah Crouch ___|_Content Watrous _________
|                                       |                                      |                     | (1809 - 1888) m 1834  (1769 - 1853)            
|                                       |                                      |_Delight Crouch _____|
|                                       |                                        (1835 - 1905) m 1851|
|                                       |                                                            |                      _William Watrous _________+
|                                       |                                                            |                     | (1790 - 1831) m 1811     
|                                       |                                                            |_Delight Watrous ____|_Clarissa Cushman ________
|                                       |                                                              (1816 - 1901) m 1834  (1792 - 1823)            
|_Evelyn Delight Montgomery or Whipple _|
  (1884 - 1970) m 1905                  |
                                        |                                                                                   __________________________
                                        |                                                                                  |                          
                                        |                                                             _____________________|__________________________
                                        |                                                            |                                                
                                        |                                       _Nelson Lamb ________|
                                        |                                      | (1826 - 1900) m 1851|
                                        |                                      |                     |                      __________________________
                                        |                                      |                     |                     |                          
                                        |                                      |                     |_____________________|__________________________
                                        |                                      |                                                                      
                                        |_Ida Lamb ____________________________|
                                          (1860 - 1948) m 1884                 |
                                                                               |                                            __________________________
                                                                               |                                           |                          
                                                                               |                      _____________________|__________________________
                                                                               |                     |                                                
                                                                               |_Mary Douglas _______|
                                                                                 (1830 - 1910) m 1851|
                                                                                                     |                      __________________________
                                                                                                     |                     |                          
                                                                                                     |_____________________|__________________________
                                                                                                                                                      

---
Notes
!SOURCE: Email from R. Gilebarto to Weldon Whipple, 16 Feb 2008.
Gravestone of James A. Crouch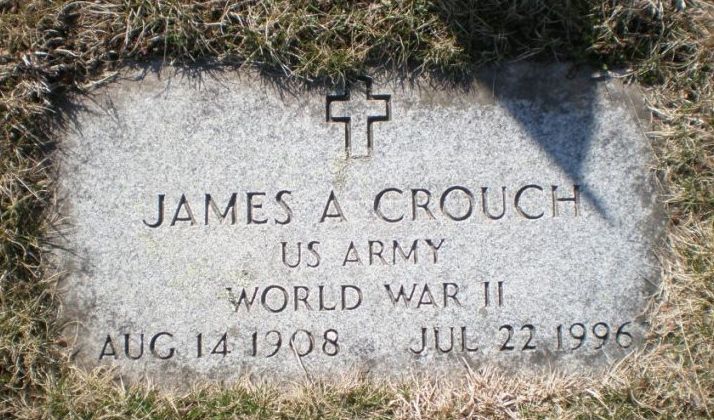 Lambtown Cemetery, Lambtown Road, Ledyard, New London, Connecticut
(Submitted 4/12/2009 by R. Gilebarto)

RIN 118430. Quick link to this page: https://genweb.whipple.org/118430
View this person at the Whipple One-Name Study

Email corrections and additions to whipple@one-name.org

© Whipple Website. All rights reserved.

---
HTML created by GED2HTML v3.6-Linux (Mar 8 2001) on Sat Jan 28 18:22:11 2023 GMT.