---
BIRTH: 7 Mar 1746/1747, Pawtucket, Providence, Rhode Island
DEATH: 30 Sep 1828, Providence, Providence, Rhode Island
BURIAL: North Burial Ground, North Main Street, Providence, Providence, Rhode Island
Father: Samuel Comstock (ABT 1715 - 16 Jan 1755)
Mother: Anna or Anne Brown (1710 - 6 Nov 1776)

Family 1: Mary Winsor (2 Apr 1755 - 7 Nov 1825)

MARRIAGE: 28 Jan 1776, , , Rhode Island
---

                                                                                             _William Comstock ___
                                                                                            | (1595 - 1689)       
                                                                   _Samuel Comstock ________|_Elizabeth Daniel ___
                                                                  | (1628 - 1660)             (1595 - 1665)       
                                             _Samuel Comstock ____|
                                            | (1654 - 1727) m 1678|
                                            |                     |                          _____________________
                                            |                     |                         |                     
                                            |                     |_Anne Tucker ____________|_____________________
                                            |                       (.... - 1661)                                 
                       _John Comstock ______|
                      | (1693 - 1749)       |
                      |                     |                                                _____________________
                      |                     |                                               |                     
                      |                     |                      _Thomas Arnold __________|_____________________
                      |                     |                     | (1599 - 1674) m 1640                          
                      |                     |_Elizabeth Arnold ___|
                      |                       (1645 - 1747) m 1678|
                      |                                           |                          _____________________
                      |                                           |                         |                     
                      |                                           |_Phebe Parkhurst ________|_____________________
                      |                                             (.... - 1687) m 1640                          
 _Samuel Comstock ____|
| (1715 - 1755) m 1738|
|                     |                                                                      _____________________
|                     |                                                                     |                     
|                     |                                            _Gregory Dexter _________|_____________________
|                     |                                           | (1610 - 1700)                                 
|                     |                      _John Dexter ________|
|                     |                     | (1652 - 1706) m 1687|
|                     |                     |                     |                          _____________________
|                     |                     |                     |                         |                     
|                     |                     |                     |_Abigail Fullerton ______|_____________________
|                     |                     |                       (.... - 1706)                                 
|                     |_Sarah Dexter _______|
|                       (1698 - 1773)       |
|                                           |                                                _John Smith _________
|                                           |                                               | (1595 - 1649)       
|                                           |                      _John Smith _____________|_Alice ______________
|                                           |                     | (1639 - 1683) m 1659      (.... - 1650)       
|                                           |_Alice Smith ________|
|                                             (1665 - 1735) m 1687|
|                                                                 |                          _John Whipple _______
|                                                                 |                         | (1617 - 1685) m 1638
|                                                                 |_Sarah Whipple __________|_Sarah ______________
|                                                                   (1641 - 1710) m 1659      (1624 - 1666)       
|
|--Benjamin Comstock 
|  (1746 - 1828)
|                                                                                            _____________________
|                                                                                           |                     
|                                                                  _Chad Brown _____________|_____________________
|                                                                 | (1600 - 1650)                                 
|                                            _John Brown _________|
|                                           | (1630 - 1706) m 1654|
|                                           |                     |                          _____________________
|                                           |                     |                         |                     
|                                           |                     |_Elizabeth Sharparowe ___|_____________________
|                                           |                       (1604 - 1672)                                 
|                      _James Brown ________|
|                     | (1666 - 1732) m 1691|
|                     |                     |                                                _____________________
|                     |                     |                                               |                     
|                     |                     |                      _Obadiah Holmes _________|_____________________
|                     |                     |                     | (1607 - 1682) m 1636                          
|                     |                     |_Mary Holmes ________|
|                     |                       (1632 - 1690) m 1654|
|                     |                                           |                          _____________________
|                     |                                           |                         |                     
|                     |                                           |_Catharine or Katherine _|_____________________
|                     |                                             (.... - 1682) m 1636                          
|_Anna or Anne Brown _|
  (1710 - 1776) m 1738|
                      |                                                                      _Andrew Harris ______
                      |                                                                     | (.... - 1616) m 1603
                      |                                            _William Harris _________|_Jane Bagley ________
                      |                                           | (.... - 1681)                                 
                      |                      _Andrew Harris ______|
                      |                     | (1635 - 1686) m 1670|
                      |                     |                     |                          _John Hyde __________
                      |                     |                     |                         |                     
                      |                     |                     |_Susan Hyde _____________|_Mary Bonfoy ________
                      |                     |                       (.... - 1682)                                 
                      |_Mary Harris ________|
                        (1671 - 1736) m 1691|
                                            |                                                _____________________
                                            |                                               |                     
                                            |                      _Richard Tew ____________|_____________________
                                            |                     | (.... - 1673)                                 
                                            |_Mary Tew ___________|
                                              (1647 - 1688) m 1670|
                                                                  |                          _____________________
                                                                  |                         |                     
                                                                  |_Mary Clarke ____________|_____________________
                                                                    (.... - 1687)                                 

---
Notes
!SOURCE: Abby Isabel Brown Bulkley, The Chad Browne Memorial, Consisting of Genealogical Memoirs of a Portion of the Descendants of Chad and Elizabeth Browne (Brooklyn, N.Y., 1888), p. 19.

!SOURCE: "Descendants of Benjamin Comstock," email from N. Combs to Weldon Whipple, 28 Dec 2004. Cites North Burial Ground, Providence, RI: Old Section 1700-1848 (birth, burial); Vital Record of Rhode Island 1636-1850 (death); Descendants of Roger Williams, Book I (marriage).
Gravestones of Capt. Benjamin Comstock and Mary (Winsor) Comstock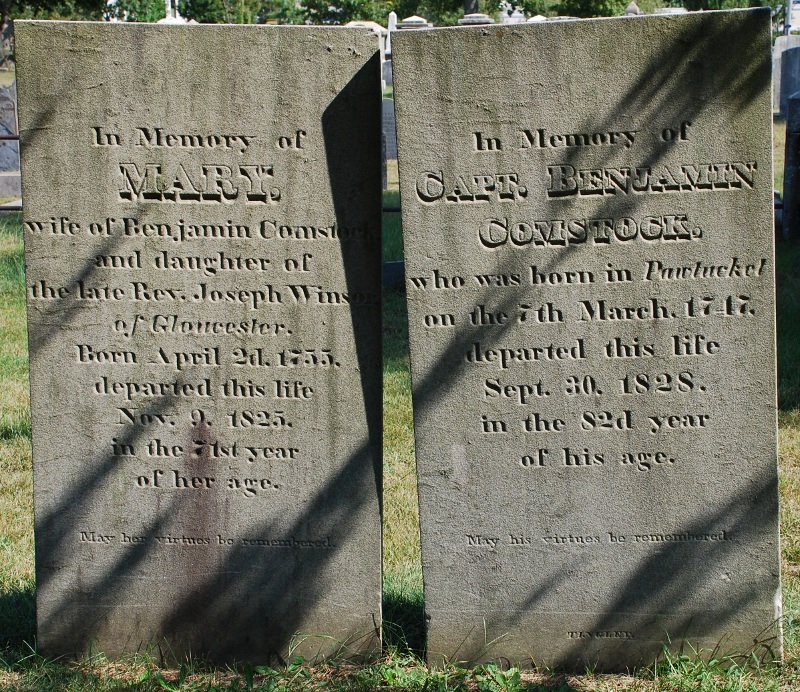 North Burial Ground, North Main Street, Providence, Rhode Island
(Submitted by Hugh Hudson, 10 Mar 2014)

RIN 69582. Quick link to this page: https://genweb.whipple.org/69582
View this person at the Whipple One-Name Study

Email corrections and additions to whipple@one-name.org

© Whipple Website. All rights reserved.

---
HTML created by GED2HTML v3.6-Linux (Mar 8 2001) on Sun Aug 7 20:05:56 2022 GMT.