---
BIRTH: 8 Apr 1904, Ledyard, New London, Connecticut
DEATH: 6 Apr 1997, New London, New London, Connecticut
BURIAL: Ledyard Union Cemetery, Ledyard, New London, Connecticut
Father: Daniel L. Chesbro (18 May 1883 - 1970)
Mother: Clara Fenella Crouch (14 May 1883 - 7 May 1937)

Family 1: Elisha Levi Watrous (29 Feb 1904 - 8 Nov 1956)

---

                                                                                                        __________________________
                                                                                                       |                          
                                                                                  _____________________|__________________________
                                                                                 |                                                
                                                        _Henry Chesbro __________|
                                                       | (.... - 1883)           |
                                                       |                         |                      __________________________
                                                       |                         |                     |                          
                                                       |                         |_____________________|__________________________
                                                       |                                                                          
                         _Daniel Gallup Chesbro _______|
                        | (1862 - 1932)                |
                        |                              |                                                __________________________
                        |                              |                                               |                          
                        |                              |                          _Joseph Gallup ______|__________________________
                        |                              |                         |                                                
                        |                              |_Elizabeth Gallup _______|
                        |                                (1841 - 1915)           |
                        |                                                        |                      __________________________
                        |                                                        |                     |                          
                        |                                                        |_Abbie Ann Denison __|__________________________
                        |                                                                                                         
 _Daniel L. Chesbro ____|
| (1883 - 1970) m 1903  |
|                       |                                                                               __________________________
|                       |                                                                              |                          
|                       |                                                         _____________________|__________________________
|                       |                                                        |                                                
|                       |                               _________________________|
|                       |                              |                         |
|                       |                              |                         |                      __________________________
|                       |                              |                         |                     |                          
|                       |                              |                         |_____________________|__________________________
|                       |                              |                                                                          
|                       |_Jennie M. or Mary Jane Lamb _|
|                         (1862 - 1914)                |
|                                                      |                                                __________________________
|                                                      |                                               |                          
|                                                      |                          _____________________|__________________________
|                                                      |                         |                                                
|                                                      |_________________________|
|                                                                                |
|                                                                                |                      __________________________
|                                                                                |                     |                          
|                                                                                |_____________________|__________________________
|                                                                                                                                 
|
|--Jennie Esther Chesbro 
|  (1904 - 1997)
|                                                                                                       _John Crouch _____________+
|                                                                                                      | (1777 - 1830) m 1797     
|                                                                                 _John Crouch ________|_Elizabeth Watrous _______
|                                                                                | (1800 - 1868) m 1821  (1780 - 1862)            
|                                                       _Timothy Crouch _________|
|                                                      | (1826 - 1874) m 1846    |
|                                                      |                         |                      _John Watrous ____________+
|                                                      |                         |                     | (1778 - 1820) m 1803     
|                                                      |                         |_Rachel Watrous _____|_Desire Rogers ___________
|                                                      |                           (1806 - 1826) m 1821  (1780 - 1821)            
|                        _Alden Avery Crouch __________|
|                       | (1857 - 1932) m 1877         |
|                       |                              |                                                _Samuel Stillman Whipple _+
|                       |                              |                                               | (1766 - 1843) m 1788     
|                       |                              |                          _Noah Whipple _______|_Hepzibah Gates __________
|                       |                              |                         | (1792 - 1871) m 1813  (1765 - 1822)            
|                       |                              |_Betsey Whipple _________|
|                       |                                (1826 - 1902) m 1846    |
|                       |                                                        |                      _William Crouch __________+
|                       |                                                        |                     | (1770 - 1840) m 1791     
|                       |                                                        |_Content Crouch _____|_Content Watrous _________
|                       |                                                          (1794 - 1835) m 1813  (1769 - 1853)            
|_Clara Fenella Crouch _|
  (1883 - 1937) m 1903  |
                        |                                                                               __________________________
                        |                                                                              |                          
                        |                                                         _Asa Phillips _______|__________________________
                        |                                                        |                                                
                        |                               _Josiah Fuller Phillips _|
                        |                              | (1826 - 1896) m 1851    |
                        |                              |                         |                      __________________________
                        |                              |                         |                     |                          
                        |                              |                         |_Amelia Thomas ______|__________________________
                        |                              |                                                                          
                        |_Lucy W. Phillips ____________|
                          (1859 - 1930) m 1877         |
                                                       |                                                _Samuel Chapman __________+
                                                       |                                               | (1780 - 1820) m 1820     
                                                       |                          _Samuel Chapman _____|_Abiah Watrous ___________
                                                       |                         | (1806 - 1844) m 1827  (1782 - 1820)            
                                                       |_Abiah Chapman __________|
                                                         (1834 - 1911) m 1851    |
                                                                                 |                      _John Crouch _____________+
                                                                                 |                     | (1777 - 1830) m 1797     
                                                                                 |_Abiah Crouch _______|_Elizabeth Watrous _______
                                                                                   (1804 - 1871) m 1827  (1780 - 1862)            

---
Notes
!SOURCE: Grave Marker in the Ledyard Union Cemetery, cited in email from R. Gilebarto to Weldon Whipple, May 1998.

!SOURCE: "Descendants of James Watrous," emailed by R. Gilebarto to Weldon Whipple 1 Jan 2001. Cites obituary in "The Day"

!SOURCE: Email from Duane I. Schultz (email hidden) to Weldon Whipple, 24 May 2009.
Gravestone of Elisha Levi and Jennie Esther (Chesbro) Watrous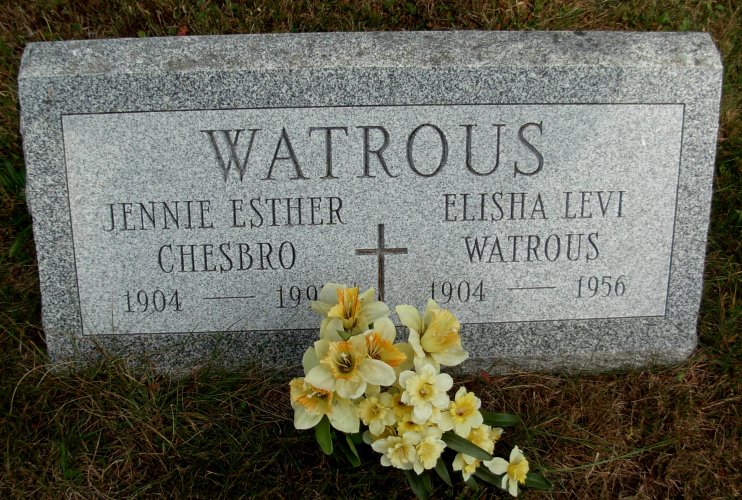 Ledyard Union Cemetery, Colonel Ledyard Highway, Ledyard, Connecticut
(Submitted by R. Gilebarto, 16 Oct 2007)

RIN 21392. Quick link to this page: https://genweb.whipple.org/21392
View this person at the Whipple One-Name Study

Email corrections and additions to whipple@one-name.org

© Whipple Website. All rights reserved.

---
HTML created by GED2HTML v3.6-Linux (Mar 8 2001) on Mon Nov 27 00:14:57 2023 GMT.