---
BIRTH: 18 Sep 1813, Groton, New London, Connecticut
DEATH: 1898, , , Connecticut
Father: Samuel Chapman (1780 - AFT 1820)
Mother: Abiah Watrous (1 May 1782 - AFT 1820)

Family 1: Content Whipple (20 Oct 1814 - 1875)

MARRIAGE: 24 Aug 1834, Groton, New London, Connecticut
---

                                                                                               ______________________________
                                                                                              |                              
                                                                   ___________________________|______________________________
                                                                  |                                                          
                                             _____________________|
                                            |                     |
                                            |                     |                            ______________________________
                                            |                     |                           |                              
                                            |                     |___________________________|______________________________
                                            |                                                                                
                       _Comfort Chapman ____|
                      |  m 1780             |
                      |                     |                                                  ______________________________
                      |                     |                                                 |                              
                      |                     |                      ___________________________|______________________________
                      |                     |                     |                                                          
                      |                     |_____________________|
                      |                                           |
                      |                                           |                            ______________________________
                      |                                           |                           |                              
                      |                                           |___________________________|______________________________
                      |                                                                                                      
 _Samuel Chapman _____|
| (1780 - 1820) m 1820|
|                     |                                                                        _Samuel Whipple ______________+
|                     |                                                                       | (1695 - 1760) m 1720         
|                     |                                            _Samuel Whipple ___________|_Ruth Card ___________________
|                     |                                           | (1722 - 1794) m 1740        (1700 - ....)                
|                     |                      _Noah Whipple _______|
|                     |                     | (1741 - 1775) m 1762|
|                     |                     |                     |                            _Joseph Mitchell _____________
|                     |                     |                     |                           |                              
|                     |                     |                     |_Eunice or Unice Mitchell _|_Elizabeth Lamb ______________
|                     |                     |                       (.... - 1801) m 1740                                     
|                     |_Eunice Whipple _____|
|                       (1764 - ....) m 1780|
|                                           |                                                  _Samuel Whipple ______________+
|                                           |                                                 | (1669 - 1728) m 1690         
|                                           |                      _Zachariah Whipple ________|_Elizabeth Eddy ______________
|                                           |                     | (1706 - 1760) m 1728        (1670 - 1717)                
|                                           |_Hope Whipple _______|
|                                             (1740 - 1829) m 1762|
|                                                                 |                            _John Rogers _________________+
|                                                                 |                           |                              
|                                                                 |_Elizabeth Rogers _________|_Bathsheba Smith _____________
|                                                                   (1706 - 1751) m 1728                                     
|
|--Ori E. Chapman 
|  (1813 - 1898)
|                                                                                              ______________________________
|                                                                                             |                              
|                                                                  ___________________________|______________________________
|                                                                 |                                                          
|                                            _John Waterhouse ____|
|                                           | (1690 - ....) m 1719|
|                                           |                     |                            ______________________________
|                                           |                     |                           |                              
|                                           |                     |___________________________|______________________________
|                                           |                                                                                
|                      _Timothy Waterhouse _|
|                     | (1740 - 1814) m 1764|
|                     |                     |                                                  ______________________________
|                     |                     |                                                 |                              
|                     |                     |                      _John Culver ______________|______________________________
|                     |                     |                     | (1670 - ....) m 1697                                     
|                     |                     |_Esther Culver ______|
|                     |                       (1698 - ....) m 1719|
|                     |                                           |                            ______________________________
|                     |                                           |                           |                              
|                     |                                           |_Sarah Long _______________|______________________________
|                     |                                             (1673 - ....) m 1697                                     
|_Abiah Watrous ______|
  (1782 - 1820) m 1820|
                      |                                                                        _Samuel Whipple ______________+
                      |                                                                       | (.... - 1710) m 1666         
                      |                                            _Samuel Whipple ___________|_Mary Harris _________________
                      |                                           | (1669 - 1728) m 1690        (1639 - 1722)                
                      |                      _Zachariah Whipple __|
                      |                     | (1706 - 1760) m 1728|
                      |                     |                     |                            _Zachariah or Zacharias Eddy _+
                      |                     |                     |                           | (1639 - 1718) m 1663         
                      |                     |                     |_Elizabeth Eddy ___________|_Alice Paddock _______________
                      |                     |                       (1670 - 1717) m 1690        (1639 - 1692)                
                      |_Content Whipple ____|
                        (1743 - 1831) m 1764|
                                            |                                                  _John Rogers _________________+
                                            |                                                 |                              
                                            |                      _John Rogers ______________|______________________________
                                            |                     |                                                          
                                            |_Elizabeth Rogers ___|
                                              (1706 - 1751) m 1728|
                                                                  |                            _ Smith ______________________
                                                                  |                           |                              
                                                                  |_Bathsheba Smith __________|_Bathsheba Rogers ____________
                                                                                                                             

---
Notes
!SOURCE: William Lee Whipple (email hidden) database, 4 Dec 1997.

!SOURCE: Email from R. Gilebarto to Weldon Whipple, 23 Feb 1998.

!OCCUPATION: Moved out west after 1860. Before moving there he was a mariner in Groton. When [wife] Content died, Ori came back East and operated a watch repair shop in Nantucket. --R. Gilebarto

!SOURCE: Descendancy chart from R. Gilebarto, emailed to Weldon Whipple 2 Jul 1998.

!SOURCE: Clara Hammond McGuigan, The Antecedents and Descendants of Noah Whipple of the Rogerene Community at Quakertown, Connecticut (Ithaca, N.Y.: J.M. Kingsbury, 1971), p. 91.

!SOURCE: Email from Hugh Hudson (email hidden) to Weldon Whipple, 12 May 2012. Cites Groton Vital Records p. 228 (scanned page attached to email). Part of the Barbour Collection.
Gravestone of O. E. Chapman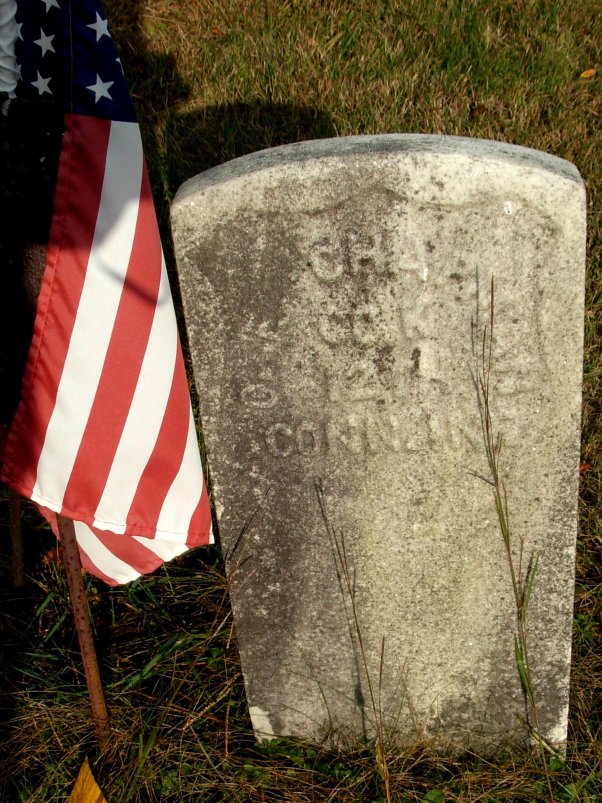 Ledyard Union Cemetery, Colonel Ledyard Highway, Ledyard, Connecticut O. E. Chapman
Co. K
12th
Conn. Inf. (Submitted by R. Gilebarto, 9 Nov 2007)

RIN 13527. Quick link to this page: https://genweb.whipple.org/13527
View this person at the Whipple One-Name Study

Email corrections and additions to whipple@one-name.org

© Whipple Website. All rights reserved.

---
HTML created by GED2HTML v3.6-Linux (Mar 8 2001) on Sat Aug 13 20:01:22 2022 GMT.