---
BIRTH: 16 Jul 1776, Scituate, Providence, Rhode Island
DEATH: 23 Nov 1842, North Providence, Providence, Rhode Island
BURIAL: North Burial Ground, North Main Street, Providence, Providence, Rhode Island
Father: Abraham Burlingame (____ - ____)
Mother: Hannah (____ - ____)

Family 1: James Angell (ABT 1781 - 20 Nov 1870)

MARRIAGE: 5 Mar 1809, Scituate, Providence, Rhode Island
+Moses Angell (ABT 1810 - 31 Jan 1888)
+Susan Eliza Angell (1813 - 13 Jul 1866)
---

                                __
                               |  
                             __|__
                            |     
                          __|
                         |  |
                         |  |   __
                         |  |  |  
                         |  |__|__
                         |        
                       __|
                      |  |
                      |  |      __
                      |  |     |  
                      |  |   __|__
                      |  |  |     
                      |  |__|
                      |     |
                      |     |   __
                      |     |  |  
                      |     |__|__
                      |           
 _Abraham Burlingame _|
|                     |
|                     |         __
|                     |        |  
|                     |      __|__
|                     |     |     
|                     |   __|
|                     |  |  |
|                     |  |  |   __
|                     |  |  |  |  
|                     |  |  |__|__
|                     |  |        
|                     |__|
|                        |
|                        |      __
|                        |     |  
|                        |   __|__
|                        |  |     
|                        |__|
|                           |
|                           |   __
|                           |  |  
|                           |__|__
|                                 
|
|--Hannah Burlingame 
|  (1776 - 1842)
|                               __
|                              |  
|                            __|__
|                           |     
|                         __|
|                        |  |
|                        |  |   __
|                        |  |  |  
|                        |  |__|__
|                        |        
|                      __|
|                     |  |
|                     |  |      __
|                     |  |     |  
|                     |  |   __|__
|                     |  |  |     
|                     |  |__|
|                     |     |
|                     |     |   __
|                     |     |  |  
|                     |     |__|__
|                     |           
|_Hannah _____________|
                      |
                      |         __
                      |        |  
                      |      __|__
                      |     |     
                      |   __|
                      |  |  |
                      |  |  |   __
                      |  |  |  |  
                      |  |  |__|__
                      |  |        
                      |__|
                         |
                         |      __
                         |     |  
                         |   __|__
                         |  |     
                         |__|
                            |
                            |   __
                            |  |  
                            |__|__
                                  

---
Notes
!SOURCE: Email from N. Combs to the Whipple Website, 4 Apr 2002. Cites Vital Record of Rhode Island, 1636-1850; North Burial Ground, Providence, Rhode Island: Old Section, 1700-1848; Rhode Island Cemeteries Database Index.
Gravestone of Hannah (Burlingame) Angell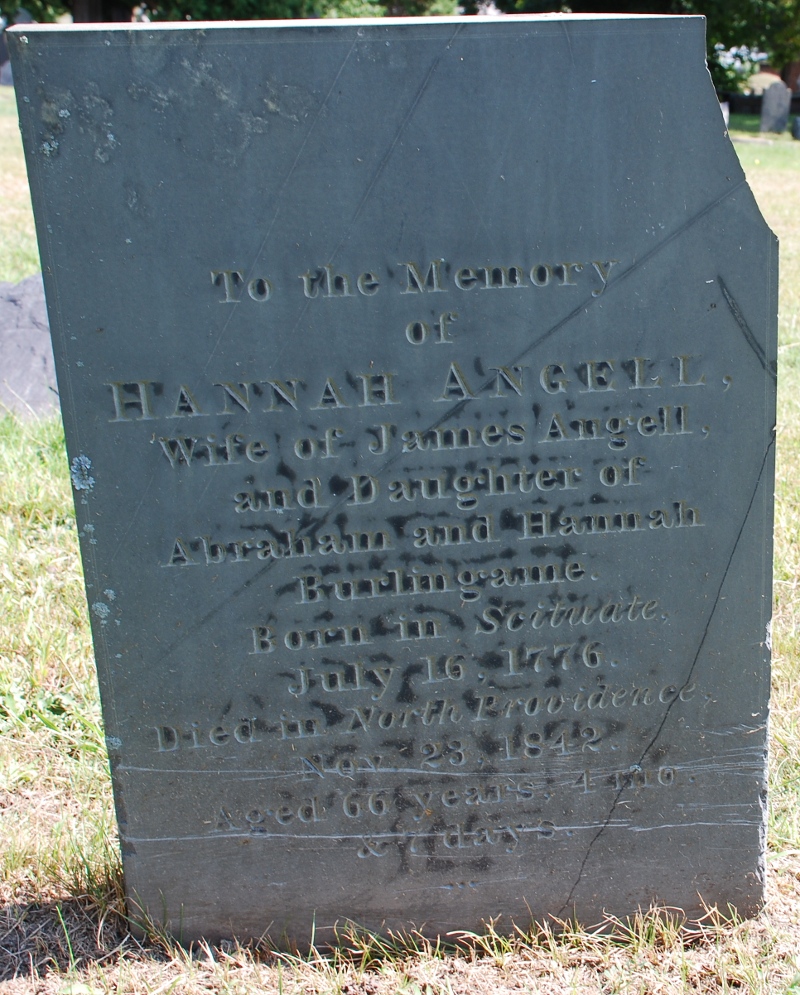 North Burial Ground, North Main Street, Providence, Rhode Island
(Submitted by Hugh Hudson, 9 Mar 2014)

RIN 57733. Quick link to this page: https://genweb.whipple.org/57733
View this person at the Whipple One-Name Study

Email corrections and additions to whipple@one-name.org

© Whipple Website. All rights reserved.

---
HTML created by GED2HTML v3.6-Linux (Mar 8 2001) on Sat Aug 13 20:01:22 2022 GMT.