---
BIRTH: ABT 26 Feb 1826
DEATH: 3 Sep 1848, Cumberland, Providence, Rhode Island
BURIAL: New Diamond Hill Cemetery, Reservoir Road, Cumberland, Providence, Rhode Island
Father: Elijah Brown (____ - ____)
Mother: Elmina Wellman (____ - ____)

Family 1: Horace Weatherhead (13 Jul 1817 - 27 Aug 1898)

MARRIAGE: ABT 1845, Cumberland, Providence, Rhode Island
Almira Weatherhead (ABT 24 Jan 1845 - 9 Feb 1845)
Almina Weatherhead (ABT 24 Jan 1845 - 22 Mar 1847)
+Esther Weatherhead (29 Jul 1846 - 2 Feb 1939)
---

                                __
                               |  
                             __|__
                            |     
                          __|
                         |  |
                         |  |   __
                         |  |  |  
                         |  |__|__
                         |        
                       __|
                      |  |
                      |  |      __
                      |  |     |  
                      |  |   __|__
                      |  |  |     
                      |  |__|
                      |     |
                      |     |   __
                      |     |  |  
                      |     |__|__
                      |           
 _Elijah Brown _______|
|                     |
|                     |         __
|                     |        |  
|                     |      __|__
|                     |     |     
|                     |   __|
|                     |  |  |
|                     |  |  |   __
|                     |  |  |  |  
|                     |  |  |__|__
|                     |  |        
|                     |__|
|                        |
|                        |      __
|                        |     |  
|                        |   __|__
|                        |  |     
|                        |__|
|                           |
|                           |   __
|                           |  |  
|                           |__|__
|                                 
|
|--Louisa A. Brown 
|  (1826 - 1848)
|                               __
|                              |  
|                            __|__
|                           |     
|                         __|
|                        |  |
|                        |  |   __
|                        |  |  |  
|                        |  |__|__
|                        |        
|                      __|
|                     |  |
|                     |  |      __
|                     |  |     |  
|                     |  |   __|__
|                     |  |  |     
|                     |  |__|
|                     |     |
|                     |     |   __
|                     |     |  |  
|                     |     |__|__
|                     |           
|_Elmina Wellman _____|
                      |
                      |         __
                      |        |  
                      |      __|__
                      |     |     
                      |   __|
                      |  |  |
                      |  |  |   __
                      |  |  |  |  
                      |  |  |__|__
                      |  |        
                      |__|
                         |
                         |      __
                         |     |  
                         |   __|__
                         |  |     
                         |__|
                            |
                            |   __
                            |  |  
                            |__|__
                                  

---
Notes
!SOURCE: "Arlon Mann Whipple," in History of the State of Rhode Island and Providence Plantations (New York: American Historical Society, 1920), p. 298-300. Extracted by Beth Hurd and emailed to Weldon Whipple 13 Jun 2002.

!SOURCE: Transcriptions of headstones from the Old and New Diamond Hill Cemeteries, Reservoir Road, Cumberland, Rhode Island. Emailed by Beth Hurd to Weldon Whipple, 13 Jun 2002.

!SOURCE: "Descendants of Sarah Whipple," email from N. Combs to the Whipple Website, 23 Feb 2003. Cites Cumberland, RI Cemetery Transcriptions (birth); Rhode Island Cemeteries Database Index (death, burial); gives approximate marriage date and place without citing sources.
Gravestone of Louisa A. (Brown) Weatherhead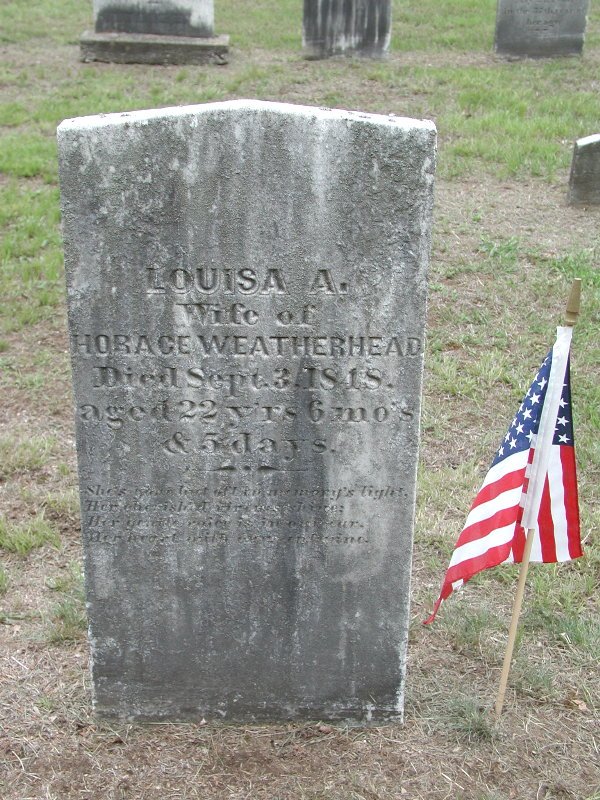 Submitted by Beth Hurd

RIN 66318. Quick link to this page: https://genweb.whipple.org/66318
View this person at the Whipple One-Name Study

Email corrections and additions to whipple@one-name.org

© Whipple Website. All rights reserved.

---
HTML created by GED2HTML v3.6-Linux (Mar 8 2001) on Mon Nov 27 00:14:57 2023 GMT.