---
BIRTH: ABT 1705, Attleboro, Bristol, Massachusetts
DEATH: 15 Jun 1736, , , Rhode Island
BURIAL: North Burial Ground, North Main Street, Providence, Providence, Rhode Island
Father: Joseph Brown (1684 - 13 Mar 1764)
Mother: Sarah Pray (1681 - 4 Jan 1727/1728)

Family 1: John Whipple (18 May 1685 - 18 May 1769)


---

                                                                                               __
                                                                                              |  
                                                                     _________________________|__
                                                                    |                            
                                             _Chad Brown ___________|
                                            | (1600 - 1650)         |
                                            |                       |                          __
                                            |                       |                         |  
                                            |                       |_________________________|__
                                            |                                                    
                       _Jeremiah Brown _____|
                      | (1634 - 1690)       |
                      |                     |                                                  __
                      |                     |                                                 |  
                      |                     |                        _________________________|__
                      |                     |                       |                            
                      |                     |_Elizabeth Sharparowe _|
                      |                       (1604 - 1672)         |
                      |                                             |                          __
                      |                                             |                         |  
                      |                                             |_________________________|__
                      |                                                                          
 _Joseph Brown _______|
| (1684 - 1764) m 1703|
|                     |                                                                        __
|                     |                                                                       |  
|                     |                                              _________________________|__
|                     |                                             |                            
|                     |                      _______________________|
|                     |                     |                       |
|                     |                     |                       |                          __
|                     |                     |                       |                         |  
|                     |                     |                       |_________________________|__
|                     |                     |                                                    
|                     |_Mary Slocum ________|
|                       (1640 - ....)       |
|                                           |                                                  __
|                                           |                                                 |  
|                                           |                        _________________________|__
|                                           |                       |                            
|                                           |_______________________|
|                                                                   |
|                                                                   |                          __
|                                                                   |                         |  
|                                                                   |_________________________|__
|                                                                                                
|
|--Abigail Brown 
|  (1705 - 1736)
|                                                                                              __
|                                                                                             |  
|                                                                    _________________________|__
|                                                                   |                            
|                                            _Richard Pray _________|
|                                           | (1630 - 1693)         |
|                                           |                       |                          __
|                                           |                       |                         |  
|                                           |                       |_________________________|__
|                                           |                                                    
|                      _John Pray __________|
|                     | (1653 - 1733) m 1678|
|                     |                     |                                                  __
|                     |                     |                                                 |  
|                     |                     |                        _________________________|__
|                     |                     |                       |                            
|                     |                     |_Mary _________________|
|                     |                                             |
|                     |                                             |                          __
|                     |                                             |                         |  
|                     |                                             |_________________________|__
|                     |                                                                          
|_Sarah Pray _________|
  (1681 - 1727) m 1703|
                      |                                                                        __
                      |                                                                       |  
                      |                                              _Chad Brown _____________|__
                      |                                             | (1600 - 1650)              
                      |                      _John Brown ___________|
                      |                     | (1630 - 1706) m 1654  |
                      |                     |                       |                          __
                      |                     |                       |                         |  
                      |                     |                       |_Elizabeth Sharparowe ___|__
                      |                     |                         (1604 - 1672)              
                      |_Sarah Brown ________|
                        (1657 - 1733) m 1678|
                                            |                                                  __
                                            |                                                 |  
                                            |                        _Obadiah Holmes _________|__
                                            |                       | (1607 - 1682) m 1636       
                                            |_Mary Holmes __________|
                                              (1632 - 1690) m 1654  |
                                                                    |                          __
                                                                    |                         |  
                                                                    |_Catharine or Katherine _|__
                                                                      (.... - 1682) m 1636       

---
Notes
!SOURCE: Email from N. Combs to the Whipple Website, 11 Sep 2001. Cites the Rhode Island Cemeteries Database Index.

!SOURCE: Email from Michael Battey (email hidden) to the Whipple Website, 6 Jul 2006. Adds birth place.
Gravestone of Abigail (Brown) Whipple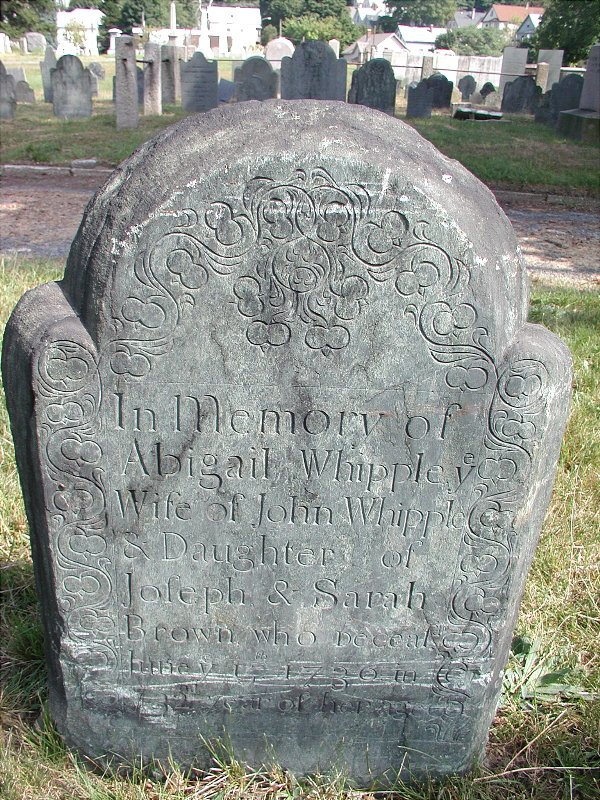 North Burial Ground, Providence, Rhode Island

In memory of Abigail Whipple,
ye wife of John Whipple,
daughter of Joseph & Sarah Brown,
who deceased June ye 15th, 1736,
in the 32nd year of her age

(Submitted by Beth Hurd)

RIN 54026. Quick link to this page: https://genweb.whipple.org/54026
View this person at the Whipple One-Name Study

Email corrections and additions to whipple@one-name.org

© Whipple Website. All rights reserved.

---
HTML created by GED2HTML v3.6-Linux (Mar 8 2001) on Fri Sep 22 22:01:36 2023 GMT.