---
BIRTH: 22 Aug 1868
DEATH: 5 Oct 1953, New London, New London, Connecticut
BURIAL: Lambtown Cemetery, Ledyard, New London, Connecticut
Father: Benjamin Franklin Binley (1832 - 1903)
Mother: Lovina C. Sheppard (1842 - 1920)

Family 1: Alonzo Christopher Shafer (21 Jan 1868 - 28 Aug 1948)

---

                                      __
                                     |  
                                   __|__
                                  |     
                                __|
                               |  |
                               |  |   __
                               |  |  |  
                               |  |__|__
                               |        
                             __|
                            |  |
                            |  |      __
                            |  |     |  
                            |  |   __|__
                            |  |  |     
                            |  |__|
                            |     |
                            |     |   __
                            |     |  |  
                            |     |__|__
                            |           
 _Benjamin Franklin Binley _|
| (1832 - 1903)             |
|                           |         __
|                           |        |  
|                           |      __|__
|                           |     |     
|                           |   __|
|                           |  |  |
|                           |  |  |   __
|                           |  |  |  |  
|                           |  |  |__|__
|                           |  |        
|                           |__|
|                              |
|                              |      __
|                              |     |  
|                              |   __|__
|                              |  |     
|                              |__|
|                                 |
|                                 |   __
|                                 |  |  
|                                 |__|__
|                                       
|
|--Jessie Helen Binley 
|  (1868 - 1953)
|                                     __
|                                    |  
|                                  __|__
|                                 |     
|                               __|
|                              |  |
|                              |  |   __
|                              |  |  |  
|                              |  |__|__
|                              |        
|                            __|
|                           |  |
|                           |  |      __
|                           |  |     |  
|                           |  |   __|__
|                           |  |  |     
|                           |  |__|
|                           |     |
|                           |     |   __
|                           |     |  |  
|                           |     |__|__
|                           |           
|_Lovina C. Sheppard _______|
  (1842 - 1920)             |
                            |         __
                            |        |  
                            |      __|__
                            |     |     
                            |   __|
                            |  |  |
                            |  |  |   __
                            |  |  |  |  
                            |  |  |__|__
                            |  |        
                            |__|
                               |
                               |      __
                               |     |  
                               |   __|__
                               |  |     
                               |__|
                                  |
                                  |   __
                                  |  |  
                                  |__|__
                                        

---
Notes
!SOURCE: "Descendants of Content Whipple," submitted to the Whipple Website by R. Gilebarto, 11 May 1999.

!SOURCE: Email from Matthew O. Kingsley (email hidden) to the Whipple Website, 5 Oct 2020. Cites Find a Grave web site memorial 30690440.
Gravestone of Alonzo C. and Jessie H. (Binley) Shafer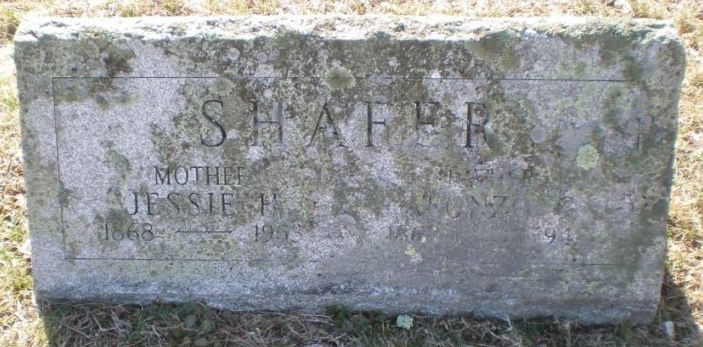 Lambtown Cemetery, Lambtown Road, Ledyard, New London, Connecticut
(Submitted 4/12/2009 by R. Gilebarto)

RIN 39231. Quick link to this page: https://genweb.whipple.org/39231
View this person at the Whipple One-Name Study

Email corrections and additions to whipple@one-name.org

© Whipple Website. All rights reserved.

---
HTML created by GED2HTML v3.6-Linux (Mar 8 2001) on Sat Aug 13 20:01:22 2022 GMT.