---
BIRTH: 28 Oct 1809, Providence, Providence, Rhode Island
DEATH: 11 Aug 1890
BURIAL: North Burial Ground, North Main Street, Providence, Providence, Rhode Island
Father: William Ballou (25 Nov 1785 - 14 Nov 1856)
Mother: Sally Smith (20 Jul 1790 - 5 Oct 1877)

Family 1: Joseph Healy (25 Nov 1815 - 31 May 1903)

Henry H. Healy (1843 - ____)
Elizabeth Healy (1845 - ____)
John Healy (1846 - ____)
---

                                                                                           _James Ballou _________+
                                                                                          | (1652 - 1740) m 1683  
                                                                     _Obadiah Ballou _____|_Susanna Whitman ______
                                                                    | (1689 - 1768) m 1717  (1657 - 1733)         
                                             _Ezekiel Ballou _______|
                                            | (1718 - 1789) m 1740  |
                                            |                       |                      _Jacob Bartlett _______
                                            |                       |                     | (1676 - ....)         
                                            |                       |_Damaris Bartlett ___|_Sarah Albee __________
                                            |                         (1703 - 1738) m 1717                        
                       _Reuben Ballou ______|
                      | (1747 - 1803) m 1787|
                      |                     |                                              _Nicholas Cook ________+
                      |                     |                                             | (1659 - 1730) m 1684  
                      |                     |                        _Josiah Cook ________|_Joanna Rockwood ______
                      |                     |                       | (1691 - 1774)         (1667 - 1710)         
                      |                     |_Joanna Cook __________|
                      |                       (1719 - 1797) m 1740  |
                      |                                             |                      _______________________
                      |                                             |                     |                       
                      |                                             |_____________________|_______________________
                      |                                                                                           
 _William Ballou _____|
| (1785 - 1856)       |
|                     |                                                                    _______________________
|                     |                                                                   |                       
|                     |                                              _____________________|_______________________
|                     |                                             |                                             
|                     |                      _John Whipple _________|
|                     |                     |  m 1757               |
|                     |                     |                       |                      _______________________
|                     |                     |                       |                     |                       
|                     |                     |                       |_____________________|_______________________
|                     |                     |                                                                     
|                     |_Freelove Whipple ___|
|                       (1758 - 1823) m 1787|
|                                           |                                              _Eleazer Whipple ______+
|                                           |                                             | (.... - 1719) m 1669  
|                                           |                        _Daniel Whipple _____|_Alice Angell _________
|                                           |                       | (1688 - 1768)         (1649 - 1743)         
|                                           |_Anne or Anna Whipple _|
|                                             (1736 - ....) m 1757  |
|                                                                   |                      _______________________
|                                                                   |                     |                       
|                                                                   |_Anne Chamberlain ___|_______________________
|                                                                                                                 
|
|--Elizabeth Whipple Ballou 
|  (1809 - 1890)
|                                                                                          _______________________
|                                                                                         |                       
|                                                                    _____________________|_______________________
|                                                                   |                                             
|                                            _______________________|
|                                           |                       |
|                                           |                       |                      _______________________
|                                           |                       |                     |                       
|                                           |                       |_____________________|_______________________
|                                           |                                                                     
|                      _Welcome Smith ______|
|                     |                     |
|                     |                     |                                              _______________________
|                     |                     |                                             |                       
|                     |                     |                        _____________________|_______________________
|                     |                     |                       |                                             
|                     |                     |_______________________|
|                     |                                             |
|                     |                                             |                      _______________________
|                     |                                             |                     |                       
|                     |                                             |_____________________|_______________________
|                     |                                                                                           
|_Sally Smith ________|
  (1790 - 1877)       |
                      |                                                                    _Ebenezer Leland ______
                      |                                                                   | (1656 - 1742) m 1695  
                      |                                              _Amariah Leland _____|_Patience Sabine Rice _
                      |                                             | (1710 - 1790) m 1724  (1671 - 1720)         
                      |                      _Abner Leland _________|
                      |                     | (1735 - 1783)         |
                      |                     |                       |                      _John Lovett __________
                      |                     |                       |                     |  m 1701               
                      |                     |                       |_Ursula Lovett ______|_Ursula Woodward ______
                      |                     |                         (1711 - ....) m 1724                        
                      |_Nancy Leland _______|
                        (1770 - 1839)       |
                                            |                                              _______________________
                                            |                                             |                       
                                            |                        _____________________|_______________________
                                            |                       |                                             
                                            |_Sarah Hopkins ________|
                                                                    |
                                                                    |                      _______________________
                                                                    |                     |                       
                                                                    |_____________________|_______________________
                                                                                                                  

---
Notes
!SOURCE: Adin Ballou, An Elaborate History and Genealogy of the Ballous in America ([Providence?]: Ariel and Latimer W. Ballou, c1888), p. 551. Gives birth 29 Oct 1809.

!SOURCE: Photo of gravestgone from Hugh Hudson to Weldon Whipple, 26 Jan 2014. Gives birth 28 Oct 1809.
Gravestones of Joseph and Elizabeth (Ballou) Healy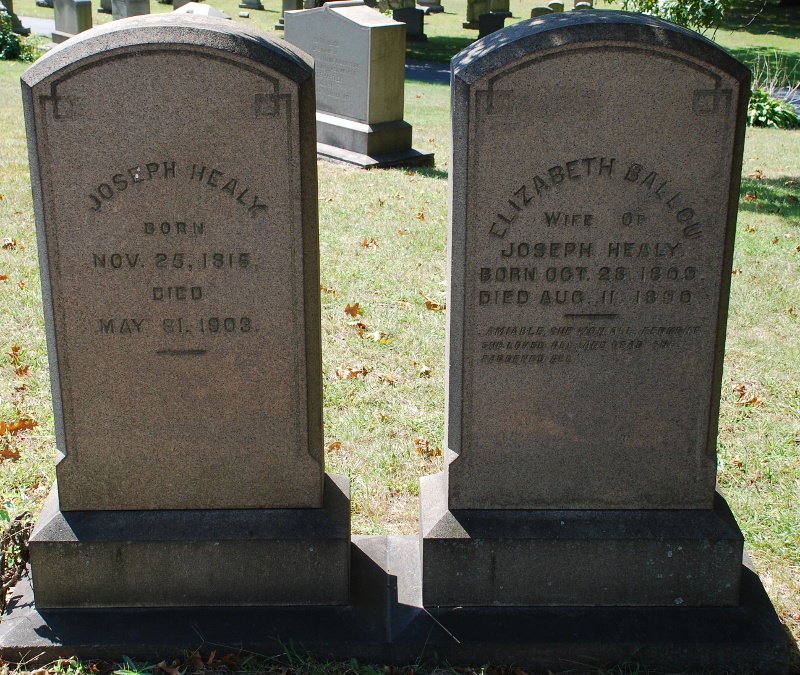 North Burial Ground, North Main Street, Providence, Rhode Island
(Submitted by Hugh Hudson, 26 Jan 2014)

RIN 38191. Quick link to this page: https://genweb.whipple.org/38191
View this person at the Whipple One-Name Study

Email corrections and additions to webmaster@whipple.org

© Whipple Website. All rights reserved.

---
HTML created by GED2HTML v3.6-Linux (Mar 8 2001) on Sat Jan 22 21:05:31 2022 GMT.