---
BIRTH: 16 Jun 1822, of, South Kingstown, Washington, Rhode Island
DEATH: 13 Apr 1881, Providence, Providence, Rhode Island
BURIAL: North Burial Ground, North Main Street, Providence, Providence, Rhode Island
Father: Jesse Babcock (____ - 1859)
Mother: Sarah (____ - ____)

Family 1: George Arnold Whipple (18 Apr 1825 - 30 Sep 1913)

MARRIAGE: 10 Oct 1848, , , Rhode Island
+George Edward Whipple (2 Sep 1850 - 17 Mar or Apr 1903)
Crawford B. Whipple (21 Aug 1857 - 14 Jul 1858)
---

                                __
                               |  
                             __|__
                            |     
                          __|
                         |  |
                         |  |   __
                         |  |  |  
                         |  |__|__
                         |        
                       __|
                      |  |
                      |  |      __
                      |  |     |  
                      |  |   __|__
                      |  |  |     
                      |  |__|
                      |     |
                      |     |   __
                      |     |  |  
                      |     |__|__
                      |           
 _Jesse Babcock ______|
| (.... - 1859)       |
|                     |         __
|                     |        |  
|                     |      __|__
|                     |     |     
|                     |   __|
|                     |  |  |
|                     |  |  |   __
|                     |  |  |  |  
|                     |  |  |__|__
|                     |  |        
|                     |__|
|                        |
|                        |      __
|                        |     |  
|                        |   __|__
|                        |  |     
|                        |__|
|                           |
|                           |   __
|                           |  |  
|                           |__|__
|                                 
|
|--Hannah P. Babcock 
|  (1822 - 1881)
|                               __
|                              |  
|                            __|__
|                           |     
|                         __|
|                        |  |
|                        |  |   __
|                        |  |  |  
|                        |  |__|__
|                        |        
|                      __|
|                     |  |
|                     |  |      __
|                     |  |     |  
|                     |  |   __|__
|                     |  |  |     
|                     |  |__|
|                     |     |
|                     |     |   __
|                     |     |  |  
|                     |     |__|__
|                     |           
|_Sarah ______________|
                      |
                      |         __
                      |        |  
                      |      __|__
                      |     |     
                      |   __|
                      |  |  |
                      |  |  |   __
                      |  |  |  |  
                      |  |  |__|__
                      |  |        
                      |__|
                         |
                         |      __
                         |     |  
                         |   __|__
                         |  |     
                         |__|
                            |
                            |   __
                            |  |  
                            |__|__
                                  

---
Notes
!SOURCE: Henry E. Whipple, A Brief Genealogy of the Whipple Families Who Settled in Rhode Island (Providence: A. Crawford Greene, 1873), p. 20 (marriage date).

!SOURCE: Will of father, Jesse Babcock, dated 24 Mar 1859, proved 10 Oct 1859. Abstracted in "Abstracts of South Kingston, Rhode Island, Wills," Rhode Island Genealogical Register, vol. 11 (1988), p. 123.

!SOURCE: "Descendants of Ruth Eddy," email from N. Combs to Weldon Whipple, 7 Sep 2009. Cites North Burial Ground, Providence, RI: Old Section 1700-1848 (birth; burial); RI Index of Deaths, 1853-1869 (death).
Gravestone of George A., Hannah P., and Crawford B. Whipple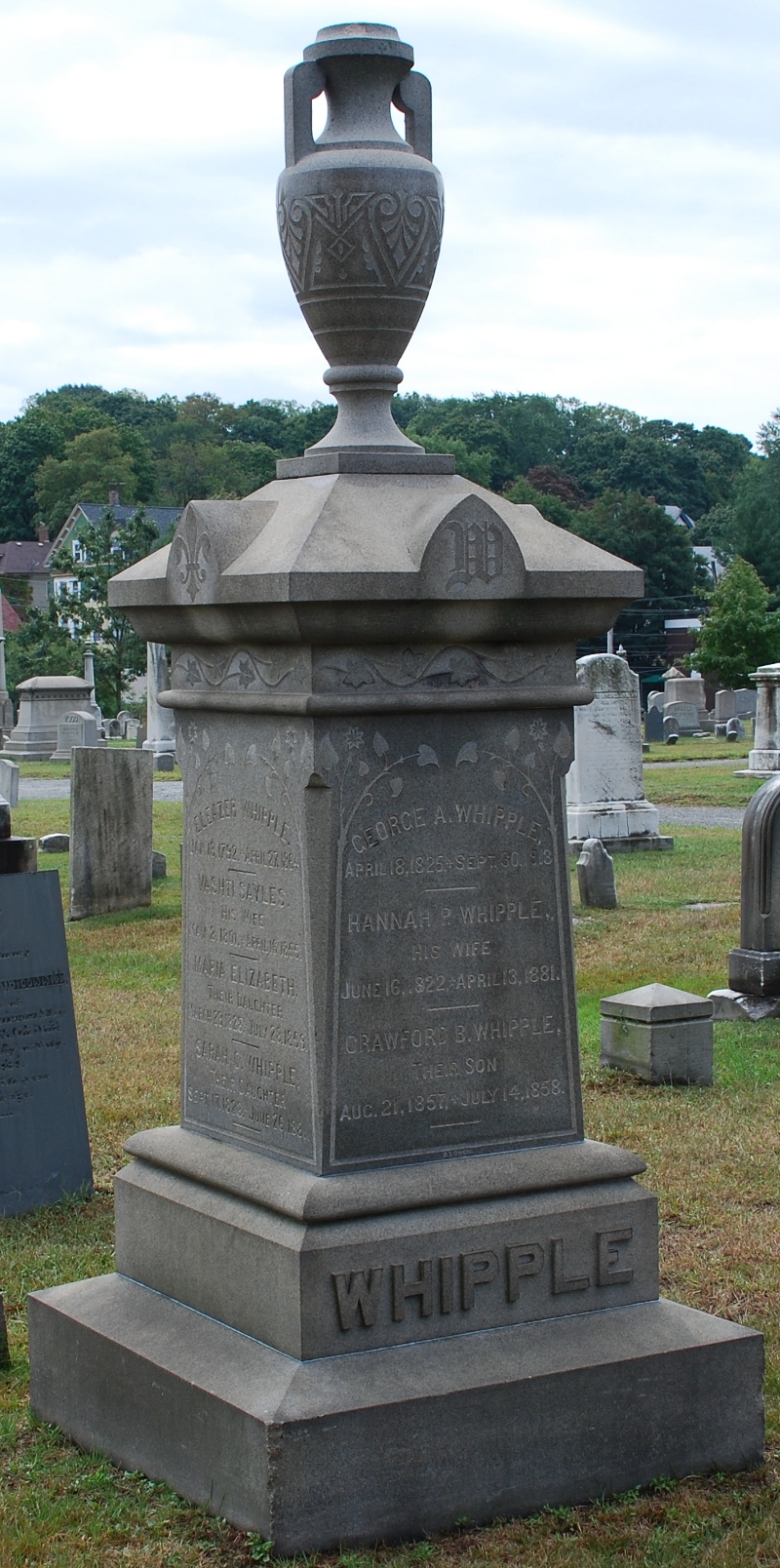 North Burial Ground, North Main Street, Providence, Rhode Island
(Left face gives Eleazer, Vashti (Sayles), Maria Elizabeth and Sarah C. Whipple.
(Submitted by Hugh Hudson, 17 Mar 2014)

RIN 9784. Quick link to this page: https://genweb.whipple.org/9784
View this person at the Whipple One-Name Study

Email corrections and additions to whipple@one-name.org

© Whipple Website. All rights reserved.

---
HTML created by GED2HTML v3.6-Linux (Mar 8 2001) on Sun May 15 02:42:26 2022 GMT.